6 Ways To Support Your Franchisees During COVID-19
Amidst the COVID-19 outbreak, one thing is clear. Companies around the world are being forced to change the way they conduct business moving forward. Brands, OEMs and franchisors may be wondering how to best support their local retailers, channel partners, and franchisees, since governments are mandating temporary closures of non-essential businesses to adhere to social distancing practices. The closures may be temporary, but the results will have lasting effects if local channel partners receive no support.
Our last article provided ways for local channel partners to maintain business and inspire action during the shutdown to better position themselves for recovery. The inspirational content being circulated by news and social channels holds one central piece of advice: support our team members and partners as best we can. Franchisees have numerous responsibilities, which have likely increased as a result of shrinking sales and potentially the tough choice of enacting lay-offs and furloughs to mitigate costs. Adaptation and survival is a key priority for every business owner right now.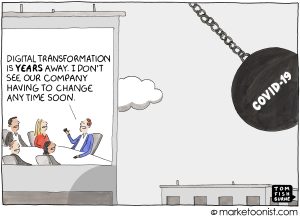 With fewer local resources at their disposal, the support a brand or franchisor can offer will make a big impact. That's why in this piece we're going to focus on key strategies and digital transformations that master brands may want to implement to further support their franchisees and channel partners during these tough times. This list includes tactics which may also be relevant at other times, but become increasingly critical during the COVID-19 outbreak.
Motivate and Reward Participation While Others Are Stagnant
As a corporate brand with a franchise network, it is ideal to have local channel partners support national programs with their local marketing efforts. History has shown companies who continue to advertise during a recession recover faster. Cost sharing of advertising to support your brand is a standard practice, but channel partners may need more incentive or assistance to place ads in the market at this time.
Is there an opportunity for your brand to increase advertising reimbursement rates to take the burden off your local channel partners?
If many of your franchisees are still leveraging traditional advertising platforms, now may be the time to encourage them to try social and digital advertisements while consumers are spending more time at home on their devices

If your franchisees are forced to close a portion of their business or

switch to online sales like many auto dealers

, supporting other offerings like maintenance and service, takeout, free delivery, curbside pickup, one-on-one direct virtual shopping with a sales associate, or

other tactics many small businesses are adopting

will help them maintain business during the shutdown. Support for these tactics now may alleviate franchisee concerns about digital transformation in the long-term, providing a clearer path of adoption for future digital strategies. 
Post Clear Guidelines For Today's World
Local channel partners with an appetite to stay active may take this opportunity to focus their advertising efforts on any products or services that can still be provided or sold. While increasing incentives is key, as a brand it is important to clearly outline what is required and recommended for local marketing and advertising campaigns. Many franchise CEO's are adjusting their advertising and business operations . Unclear requirements may cause additional and unwanted frustration for franchisees resulting in a negative experience associated with your brand. The corporate brand and/or channel marketing team should clearly state what is expected for channel partners to advertise properly while working with their sales team to ensure everyone is aligned and they have a comprehensive approach.
Review your full advertising requirement Playbook or Guidelines and determine which mandatories should remain intact and which, if any should be relaxed or suspended for a given period of time
Plan to thoughtfully reassess Guidelines and include regular updates as the state of the market is rapidly changing
Create bite-sized content focused on specific tactics in one-sheeter bulletins to be shared digitally throughout the network and sales organization
Provide Channel Partners with Plug-and-Play Content
We have seen a lot of social media content posted by brands about what they are doing to aid the fight against COVID-19. Whether it is support efforts or changing how brands are conducting business, customers largely appreciate the content and updates. Channel partners can work as an extension of those efforts by adding a hyper-local lens tailored for their community. Arm your franchisees with the right tools and their customers will likely react positively, keeping your brand top of mind now and when regular purchasing behaviors return.
Adapt branded materials to make them relevant for posting during the COVID-19 outbreak and provide them to your channel partners for their use
Provide easy-to-execute content ideas your channel partners can develop for social posting or ad serving in their community
Develop or further outfit an online asset management site for franchisees to access corporate-created materials
Design content with customizable sections that franchisees can use to input their local or community-relevant information
Simplify Claim Submissions and Fund Management
As franchisees are advertising or communicating in their communities, it is important to provide tools to submit claims and track budget allocations. Your brand may have agreed to more flexibility for allowable content or to bolster financial support for advertising efforts. This could potentially result in some franchisees jumping to take advantage of the changes without accounting for all the guidelines still in place. It is our recommendation to provide digital tools for franchisees to submit content for efficient review and access real-time advertising budget snapshots. To help solve the issues of tracking cooperative marketing and MDF budgets, our team developed a Co-op Resource Center (The CRC) able to track everything throughout the claim process.
This tool tracks budgets across all regions down to each franchisee in real time so there are never questions about available funds

Claims are entered by franchisees and then reviewed by the co-op team on the platform to mitigate lost claims and shorten the approval/feedback period. Claims can be applied to different fund allocations like budgets set aside for the COVID-19 response.

A "Prior Approval" function allowing franchisees to submit tailored or completely new content to ensure guidelines are met before advertisements are run
Offer Live Resources to Guide Franchisees
If your brand has made the decision to further support advertising efforts during the COVID-19 outbreak, there is potential for an increased amount of communication from local channel partners to the brand with questions about how to proceed. Though digital tools can provide ease-of-use for a lot of franchisees, an extra set of hands to manage those communications may be helpful. A large number of franchisees are running multiple ads, submitting claims, and supporting response efforts resulting in a large amount of information being transferred and questions that arise. Our recommendation is to deploy a dedicated Co-op Management team with the primary responsibility to be the go-to resource between the franchisee and corporate brand.
The Co-op Management team is set up as a live resource for local channel partners to speak to when they have questions, because sometimes a playbook or guidelines don't have all the answers
The individuals on the Co-op Management team can become an extension of your corporate marketing team who are experts on the brand and drive strategic initiatives among the franchise network
Feedback from franchisees can be consolidated through one channel to help inform future evolutions of the co-op program including short term adjustments to help a COVID response program evolve as needed
Create Good Habits and Cultivate Partnerships for Automated Advertising 
If your organization has placed importance on communication during the outbreak, many franchisees may become more comfortable with how best to leverage a co-op program in their area. These good habits can pay off for your organization for the long-term by expanding your communication footprint. Franchisees will often look for more ways to expand and automate their marketing efforts to make their advertising dollars work harder. Our team has a few strategies to help take the responsibility off the franchisees and put onto the co-op team.
Develop opt-in programs with automated tactics that the co-op and marketing teams can manage on behalf of the franchisees while providing updates as needed
Encourage regional and localized group advertising programs so multiple franchisees can pool their resources for key periods or industry events in order to increase their spend efficiency
Develop relationships with trusted media vendors to cover large regions of advertising needs for your franchisees that streamline batch processes and invite as many franchisees to participate as possible
Working to provide their local channel partners with these tools has proven successful for our clients and made the lives of their franchisees easier. The driver of that success is to develop a program that allows local channel partners and franchisees to focus on what matters most, their community and their business! Where the COVID-19 outbreak has certainly created an obstacle for many across the country, it has also created an opportunity for businesses willing to adapt, embrace digital transformation, and explore new ways to serve their customers.
Our clients have been awarded with honors and recognition for developing some of the top co-op programs in their respective industries. If you'd like to evolve and strengthen your co-op program in the future but aren't sure where to start, our team will gladly conduct a Free Co-op Checkup™ assessment for your organization. If you'd like to have a conversation about how we might be able to help you or your business, please contact Lora Dircz at 702-400-7037 or ldircz@cooperatemarketing.com. Stay safe everyone!
---
About The Author
Rick Ekelof is a Senior Account Executive at Cooperate Marketing. Rick has 7 years of Marketing and Advertising experience and holds a Marketing Degree from the Indiana University Kelley School of Business.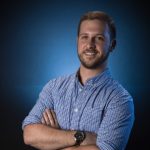 Get your free check up today!
Send us a note to learn a little bit more about our co-marketing solutions. Our exclusive multi-point assessment of your current program includes real, actionable steps you can take to improve its performance.