Cooperate Marketing Named Leader For Retail Advertising and Marketing By Clutch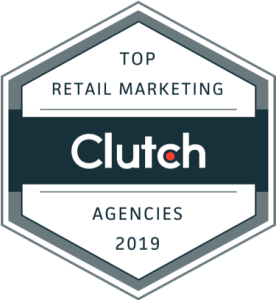 Since our start in 2016 at Cooperate Marketing, we've been committed to understanding the heart of your brand, so our creative executions provide the right messaging that engages your customers.
Our dedication to research and creating customized solutions is what makes us the best in Chicago and we're not the only ones who think so.
Clutch, the B2B ratings and reviews platform recently published its leader awards for the top B2B companies for the retail industry. We're pleased that we've been selected as a leader for top advertising and marketing agencies in retail.
"On behalf of everyone at Cooperate, we are honored to be recognized by Clutch as a leading agency within the advertising / marketing retail space. This wouldn't be possible without our amazing clients and the continued partnerships throughout the years. Thank you for the ongoing collaboration and support to help us create outstanding work on your behalf, and we are humbled to be the recipient of this award." –– Brian Fourman, Founder, Cooperate Marketing
What makes these awards important is the methodology behind them; Clutch categorizes the best companies based on honest client feedback for companies they work with.
Cooperate Marketing's team is ready for new projects that bend the rules of business and design to differentiate your company from its competitors.
If you're ready to step into success with us, send our team a message!
Get your free check up today!
Send us a note to learn a little bit more about our co-marketing solutions. Our exclusive multi-point assessment of your current program includes real, actionable steps you can take to improve its performance.