People > Platforms
Our proprietary program management technology delivers impactful results. But it's concierge-level customer service and strategic insights that set Cooperate Marketing apart.
GET YOUR FREE CO-OP/MDF CHECK UP
who we are
Our approach differs from the rest.
Through-channel marketing is one of the largest line items in most brands' budgets. Yet too often, the results of these efforts are vague, less than optimal or even worse—untracked. As through-channel marketing experts, Cooperate Marketing offers unparalleled focus and dedicated care. We proactively identify ways to address your needs, optimize your ROI, and deliver leading-edge technology with old-fashioned, high-touch service. What truly sets us apart from other through-channel agencies is our total dedication to providing the highest level of service and support to our Clients' Channel Partners.
We guarantee Channel Partner satisfaction or your money back.
what we do
We call our proprietary approach "co-optimizing."
Most of our competitors offer off-the-shelf, one-size-fits-all platforms. We believe every brands' challenges are unique, so we create customized through-channel solutions that address them.
Cooperate Marketing strengthens your network to create efficiencies, improve results and maximize ROI.
brand & Agency
Distributor
Local Channel
Consumer
Co-optimized consulting
Data Analysis & Research
ROI/KPI Measurement
Insights & Reco Program Improvements
Strategic Planning
Co-op Concierge Service
Proactive Live 24/7 Support
Fully Educated Products & Services
Provide Immediate Solutions
White Glove Treatment
Co-op Resource Center
Cutting-Edge Platform
Intuitive/Turnkey
Modular Design
End-to-End Solution
what we OFFER
An integrated suite of cooperative marketing services.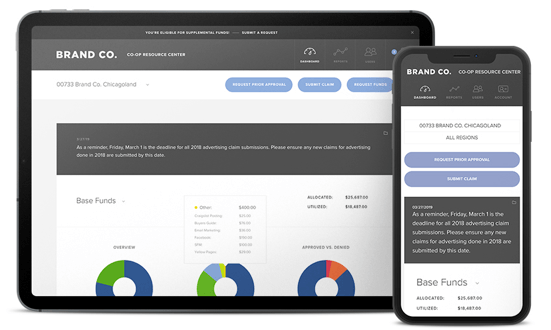 At the heart of our services is the Co-op Resource Center—our proprietary management platform. It offers a comprehensive, mobile responsive, cloud-based solution that can be highly customized to meet a client's individual needs. But it's the team behind that platform that ensures absolute client satisfaction and sets us apart in the industry. This team offers a full range of services to enhance your cooperative marketing efforts, including:
Planning
Management
Administration
Media
Retail
Experiential
Creative/Production
Education
Request a platform demo
Our services
why we stand out
Our proprietary tools and techniques empower our agency and our clients' through-channel programs to shine.
"Cooperate has helped elevate our existing through-channel program to top-tier status among OEM's, and continues to exceed not only our expectations, but our thousands of dealers as well."
VP of Marketing • Kawasaki Motors Corporation, U.S.A.
"Wonderful to work with on our marketing needs, and very helpful in creating and executing channel marketing plans that increase brand awareness and boost sales. I am looking forward to working together on many more future projects."
Principal • KJM Construction Co.
"They make the co-op experience GREAT from beginning to end. They're awesome and are always there to help...it's like having your own co-op team!"
Owner • California Video Works & Ad Agency
our Work
Grounded in results
See how high-impact through-channel marketing builds the bottom line and brand.
Contact us
Want to get in touch? Please fill out the form and we'll get back to you shortly.
Get your free check up today!
Send us a note to learn a little bit more about our through-channel solutions. Our exclusive multi-point assessment of your current program includes real, actionable steps you can take to improve its performance.
Request a demo today!
The best way to learn about the power of the Co-op Resource Center is to see it in action. Please fill out the form below and we'll be in touch to walk you through how our proprietary through-channel platform can benefit your organization and partners.